Description
Food supplement
60 Capsules Jar
N° ACL 3401573316227
Save 15% : 31$ -> 26.35$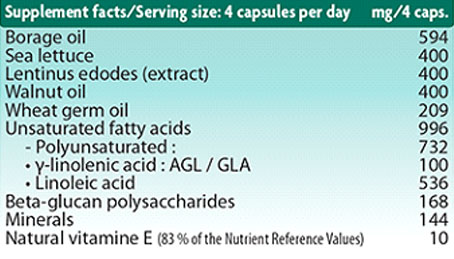 HOLISTICAP
BEAUTY FOR NAIL AND HAIR
POLYSACCHARIDES & FATTY ACIDS GIVE VOLUME AND BRIGHTNESS TO YOUR HAIR
MAKES YOUR NAILS BRIGHTER
FATTY ACIDS BALANCE Ω3 + Ω6, LENTINUS EDODES EXTRACT, NATURAL VITAMIN E, SEAWEED NUTRIENTS
Holisticap provides a balanced supplement in essential fatty acids and phytonutrients, favoring hair growth, natural Vitamin E and marine polysaccharides. Sea fish gelatin capsule.
INGREDIENTS
Fish gelatin, cold pressed deodorized borage oil (seed) (Borago officinalis), Sea lettuce (leaf) (Ulva lactuca), Shii-ta-ke (dry extract) (Lentinus edodes), 1rst cold pressed Walnut oil organic (fruit) (Juglans regia), humectant: glycerin, Wheat germ oil (Triticum vulgare), thickener: beeswax, maltodextrin, natural vitamin E (d-alpha tocopherol). Contains no artificial chemicals, no preservatives, synthetic colors or flavorings. May contain traces of molluscs and crustaceans.
DIRECTIONS FOR USE
Take 2 capsules twice a day (morning and noon) for 1 month. Repeat as needed. Keep out of sight and reach of children. Do not use if blister is broken. A varied balanced diet and healthy lifestyle are important. This is a food supplement and should not be used as a substitute. Do not exceed the stated recommended daily dose. Keep in a cool place.