Description
Food supplement
60 Capsules Box
N° ACL 3401574678249
120 Capsules Jar
N° ACL 3401544552005
Save 15% : 44.4$ -> 37.74$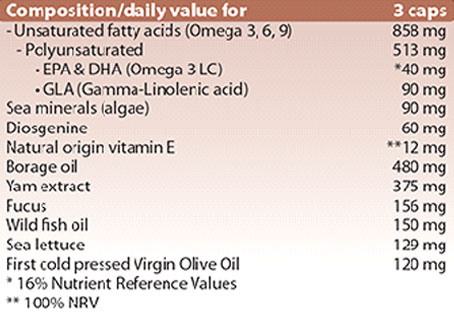 MENOLISTICA
MENOPAUSE NUTRITIONAL SUPPORT
YAM EXTRACT CONTRIBUTES TO NUTRITIONAL PERIMENOPAUSE SUPPORT AND HELPS REDUCE HOT FLUSHES
PROVIDES OMEGA 3+6+9 AND NATURAL ANTI-OXIDANT VITAMIN E
PROVIDES SEAWEED MINERALS AND GLYCONUTRIENTS USEFUL OVER 40
MENOLISTICA® provides essential and specific help, so that women of forty years old and over may uphold an optimum physical shape and energy, which in turn, is a source of happiness and good mood. Therefore, it is possible to continue living a full bloom femininity. MENOLISTICA was designed by women for women.
MENOLISTICA'S ORIGINALITY: SYNERGY AND BALANCE
MENOLISTICA offers 2 families of precursor nutrients to the body at the same time, especially useful to women over forty. Therefore, their body can decide on the transformation of these nutrients itself, according to the needs at the time. This original formula, which is judiciously dosed in its nutritional composition was also developed in observance with the concepts of the energy tradition, both in the quality selection and in the compatibility of its ingredients.
INGREDIENTS
Fish gelatin (capsule), cold-pressed deodorized borage oil (seed) (Borago officinalis), yam total extract at 16% of diosgenin (rhizome) (wild yam: Dioscorea oppositifolia), humectant: glycerin, sunflower oil (seed) (helianthus annuus), dried fucus (algae) (Fucus vesiculosus), wild fish oil (flesh), dried sea lettuce (Ulva lactuca), first cold-pressed olive oil (fruit) (Olea europaea), thickener: beeswax, vitamin E natural source. May contain traces of molluscs and crustaceans.
DIRECTIONS FOR USE
3 capsules per day according to age and while eating. It is sometimes advised to alternate periods of 3 weeks of supplementation with a 1 week break. Keep out of reach of children. Keep out of sight and reach of children. Do not use if blister is broken. Consult your doctor or pharmacist if you are breast feeding, pregnant or planning to become pregnant. A varied balanced diet and healthy lifestyle are important. This is a food supplement and should not be used as a substitute.