Description
Food supplement
60 Capsules Jar
N° ACL 3477280001398
Save 15% : 31.1$ -> 26.44$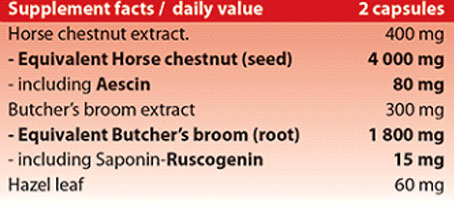 VEINO'GUARD
HORSE CHESTNUT AND BUTCHER'S BROOM EXTRACTS CONTRIBUTE TO MAINTENANCE OF THE NORMAL BLOOD CIRCULATION
HORSE CHESTNUT : 80 MG AESCINE.
BUTCHER'S BROOM : 15 MG SAPONINES-RUSCOGÉNINE.
WITCH HAZEL.
Veins are the blood vessels responsible for carrying blood from the body to the lungs and heart. Under normal conditions, the one-directional valves in these veins fight gravity and push blood up towards the heart. With ageing process and nutritional deficiencies these valves do not function in an optimal way, causing the veins to bulge. The veins then become weakened, enlarged, and twisted.
VEINO'GUARD is formulated with horse chestnut and butcher's broom exracts contributing to the maintenance of normal venous circulation through their phyto-active nutrients: Aescin and Ruscogenin. These two saponins, help to ensure the maintenance of normal vessels walls, in synergy with witch hazel.
INGREDIENTS
Horse chestnut SEED standardized EXTRACT (Aesculus hippocastanum), Butchers broom root standardized EXTRACT (Ruscus aculeatus L.), Hypromellose (vegetable origin capsule), witch hazel LEAF (Hamamelis virginiana L.), anticaking: vegetable magnesium stearate.
DIRECTIONS FOR USE
1 capsule, twice a day, during a meal. Food supplements should not be used as a subtitute for a varied and balanced diet and a healthy way of life. Do not exceed the stated recommended daily dose. Do not use if you are pregnant. Do not take when you are under anticoagulant treatment. Keep out of reach of children. Store in a dry place.