Description
Food supplement
32 capsules Box
N° ACL 3401547569536
60 Capsules Jar
N° ACL 3401548797334
Save 15% : 23.7$ -> 20.15$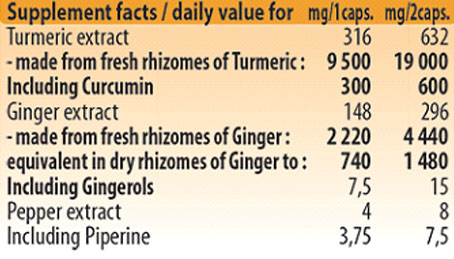 DOLUPERINE
CELL PROTECTION : CURCUMINE – GINGEROL – PIPERINE SYNERGY
TURMERIC AND GINGER EXTRACTS HELP TO MAINTAIN NORMAL JOINTS AND CELLS
CURCUMIN DECREASES CONTAMINANTS ATTACKS ON CELLS
SYNTHETIC-SOLVENT-FREE & NANO-FREE
TURMERIC, GINGER AND PEPPER EXTRACTS CONCENTRATED IN CURCUMIN, PIPERINE AND GINGEROL FOR EFFICACY AND SAFETY
Cell Mol Biol (Noisy-le-grand). 2010 Oct 5; 56 Suppl: OL1400-9. Effect of a novel Omegacoeur®/Doluperine® nutritional combination on human embryonic kidney cell viability. Sottejeau Y, Patel AM, Gerber G, Pierre SV, Maixent JM. Source: Department of Physiology and Pharmacology, College of Medicine, University of Toledo, Ohio, USA.
INGREDIENTS
Turmeric dry extract (Rhizome) (Curcuma Longa) concentrated in Curcumin, ginger dry extract (Rhizome) (Zingiber off.) concentrated in Gingerols, hypromellose (Herbal origin capsule), anti-caking: vegetal magnesium stearate, pepper dry extract (Seed) (Piper nigrum) concentrated in Piperine.
DIRECTIONS FOR USE
*2 capsules daily, 1 during each main meal, provide the required turmeric and ginger extracts for the claimed effects. Maximum, one caps a day for children between 6 and 12. Do not use if you are pregnant or breastfeeding or for children under 6 years of age. Consult your pharmacist or your doctor if you use anticoagulants. Keep out of reach of children. Do not exceed the stated recommended daily dose. Food supplements should not be used as a substitute for a varied and balanced diet and a healthy way of life.