Description
Food supplement
48 Capsules Box
N° ACL 3401570533306
Save 15% : 22.2$ -> 18.87$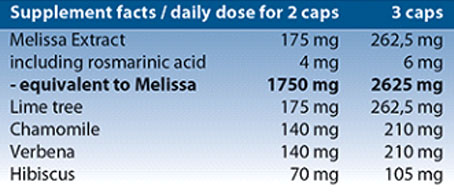 CALMOPHYTUM
RELAXATION, PEACEFUL NIGHTS, CALM & SERENITY
LEMON PALM (MELISSA)
HELPS RELAXATION AND REST
INDUCES SLEEP IN A NATURAL AND GENTLE WAY
GENERAL WELL-BEING OF CHILDREN AND ADULTS
The rigors of the day at an excessive pace, or even overwork, disrupt days but alsothe nights. Although tired, the body does not easily plunge into rest. Simply yet often of a small simple hand of nature.
INGREDIENTS
Hypromellose, Lemon balm extract (aerial parts) (Melissa officinalis) (Maltodextrin support <5%), dried plants: Lime tree (Flowers) (Tilia cordata), Chamomile (Flower) (Chamaemelum nobile), Verbena (Leaf) (Aloysia citriodora), Hibiscus (Flower) (Hibiscus sabdariffa).
DIRECTIONS FOR USE
Adults: 2 to 3 capsules taken in the evening, 1/2 hour before going to bed. For children, dilute the content of a capsule in a small volume of water. Keep out of sight and reach of children. Do not use if blister is broken. Consult your physician or pharmacist if you are breast feeding, pregnant, planning to become pregnant or taking any prescribed medicine. A varied balanced diet and healthy lifestyle are important. This is a food supplement and should not be used as a substitute. Do not exceed the stated recommended daily dose.